Today, the All Party Parliamentary Group on Beauty, Aesthetics and Wellbeing (the APPG), welcomed Small Business Minister Paul Scully to National Hair and Beauty Federation salon Issy's in Belgravia, as he showed his support for the UK's £30 billion hair, beauty and wellbeing sector.
The Minister, who is responsible for the Personal Care sector, met with Debbie Postiglioni and David Gillson, Co-Directors of Issy's, the NHBF and APPG member Caroline Nokes MP. They discussed the salon's experiences during the pandemic, how they have fared since reopening, and wider industry issues such as skills and apprenticeships.
The APPG's recent inquiry into how the beauty and wellbeing sector can recoup its losses and recover from COVID-19 found that a deficit in consumer confidence since reopening has meant that 66% of beauty businesses remain either partially or fully reliant on Government support to function. The APPG this week launched 3-point Call to Action on Government supporting the sector, which includes broader apprenticeship incentives for small and micro businesses, and recognising the crucial role of holistic and complementary therapies in taking pressure off the NHS.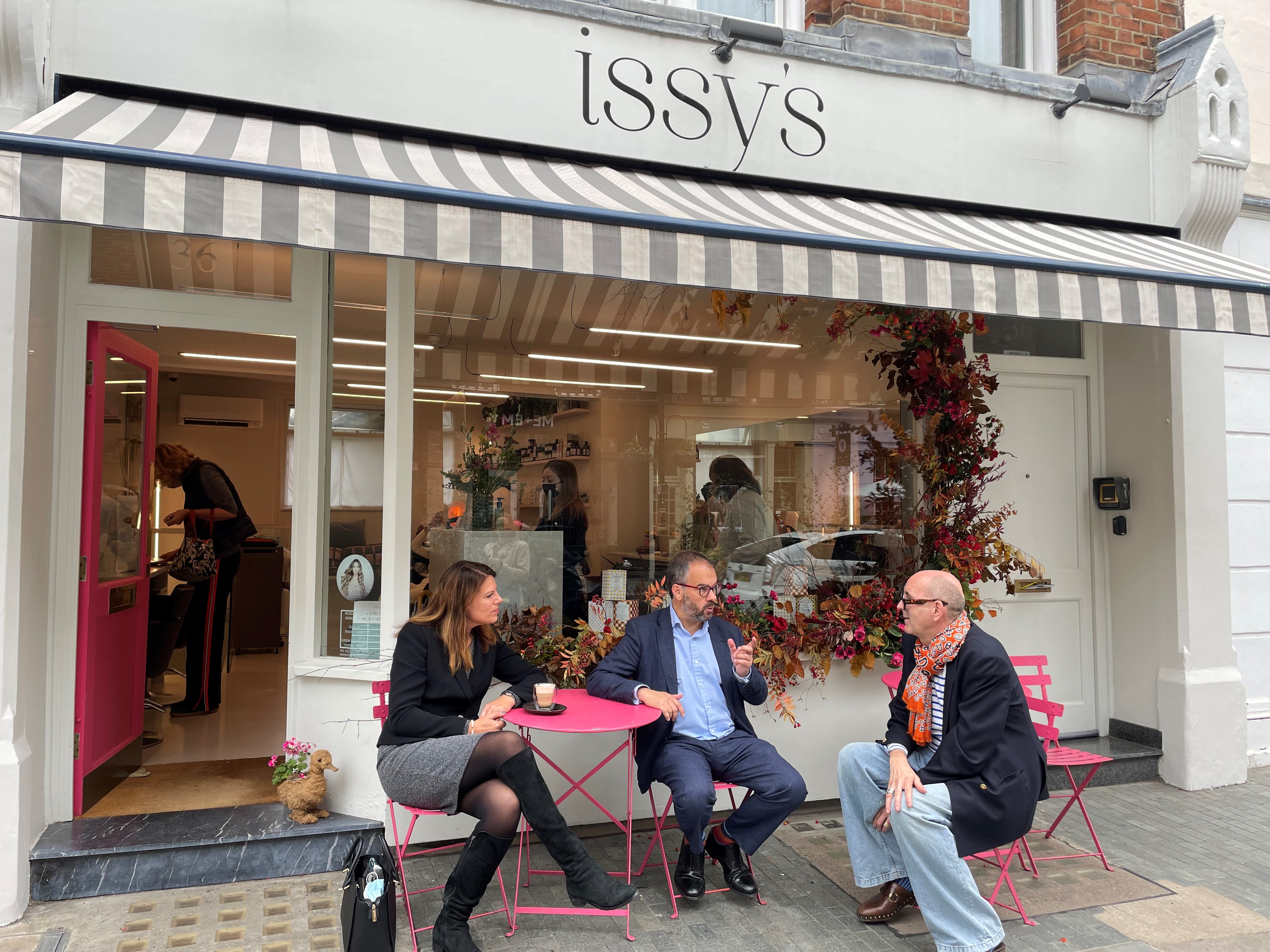 Paul Scully, Small Business Minister, said:
"The beauty sector has such a critical role to play in our recovery from the pandemic, not just because of the opportunities it provides to workers and entrepreneurs – most of whom are women – but also because of the vital boost to mental health and wellbeing which beauty treatments offer.
"I'm proud of the efforts we have made to support the sector and will continue to work closely with beauty industry experts as we build back better on high streets across the nation."
Co-Chairs of the APPG, Carolyn Harris MP and Judith Cummins MP, said:
"We were delighted to see the Minister back our campaign to help beauty and wellbeing bounce back post-pandemic.
"Once worth £30bn to the UK economy, supporting 50,000 businesses and 560,000 jobs (85% women), the pandemic took a massive toll on the industry, which has been struggling to get back on its feet. Despite the full reopening of 'Personal Care' in April, consumer confidence remains below its pre-COVID levels.
"It was fantastic to see the Minister show the strength of support for this sector, and ensure that, as the beating heart of several UK high streets, it can bounce back to its pre-pandemic state once again".
APPG Member Caroline Nokes said:
"I am pleased the Minister has recognised the importance of the hair, beauty and well-being sector, and has come to hear at first-hand how businesses have been impacted by the pandemic.
This is an incredibly resourceful sector, which I have been proud to champion in Parliament, and will continue to remind Government of the economic value and the wider well-being support it gives.  It is a female driven industry, providing hundreds of thousands of jobs, and just as importantly it has helped enormously to combat loneliness and anxiety at the current time".